CITY OF MONASH SOCIAL INCLUSION TEAM Monash Indian-Multicultural Seniors Coming Together
October 14 @ 11:00 AM

-

3:00 PM
CITY OF MONASH SOCIAL INCLUSION TEAM
MONASH INDIAN-MULTICULTURAL SENIORS COMING TOGETHER
FORTHCOMING EVENTS:
Monash Seniors Festival 
Change of date and venue details for Monash Indian-Multicultural Seniors Coming Together
Dear PALS Participants,
 Please note the change in date and venue to the following PALS Seniors Event:
  MONASH INDIAN-MULTICULTURAL SENIORS COMING TOGETHER
INDIAN SENIOR CITIZENS ASSOCIATION
Everyone is invited to a showcase of yoga, Indian dances, costume, jewellery and Indian food
by the Indian Senior Citizens Association.
Date:  Saturday 14 October
Time:  11.00 am – 3.00 pm
Venue:  Mount Waverley Youth Centre, 47 Miller Crescent, Mount Waverley
Cost:  Free, donations are welcome
Bookings:  No bookings required
Enquiries:  0418 872 614 or 0418 306 106
Parking:  On-site parking
Apologies for any inconvenience caused by the event changes.
Thank you.
Regards,
Vicki
SOCIAL INCLUSION TEAM
CITY OF MONASH
P:  9518 3552
Positive Ageing Lifestyle Program (PALS)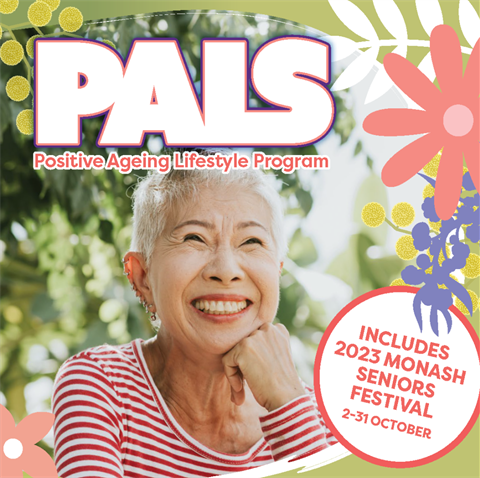 PALS is a Positive Ageing Lifestyles Program aimed at promoting healthy and active ageing.
The program offers FREE or low-cost activities for any older adult who lives in, works in or visits Monash.
To find out more, please view the program below:
PALS Spring 2023 Program: September-November – Includes Monash Seniors Festival(PDF, 21MB)
PALS Winter 2023 Program: June-August(PDF, 10MB)
Register to receive our Positive Ageing Lifestyle Program
==================================================================================
Book events
TryBooking (an online booking and registration system for events) is used to book into the events you would like to be part of.
A booking reference number is listed for each event – simply type it into your web browser to book.
Our programs are available in other formats – such as large text – upon request.
If you have difficulty booking, or want more information, please call 9518 3555.
Privacy Collection Statement
Monash City Council ("Council") collects personal information for the Positive Ageing Newsletter e-newsletter and related purposes which the individual to whom the information relates may reasonably expect.
Council will not release or provide access to personal information to any other person or body, unless (a) it has been authorised to do so by the person to whom the information relates, (b) it is permitted or required to do so by law, or (c) it is appropriate or required in the performance of the functions of Council. You may gain access to your personal information by contacting Council's Privacy Officer via email at legal@monash.vic.gov.au.
Council uses Mailchimp to send its electronic newsletters. Mailchimp is a company based in the USA. Council only provides Mailchimp with information that is necessary to enable the newsletters to be sent out. This information is held securely by Mailchimp on servers in the USA. Their privacy policy can be found at Mailchimp: Privacy Policy.
To opt out of receiving a Council newsletter you can:
Choose the 'unsubscribe' option provided in the newsletter email, or contact us on 03 9518 3555 or by email at pals@monash.vic.gov.au
Details
Date:

October 14

Time:

11:00 AM - 3:00 PM

Event Categories:
Venue
Mount Waverley Youth Centre, 47 Miller Crescent, Mount Waverley

Mount Waverley Youth Centre, 47 Miller Crescent, Mount Waverley 148 Drummond Street, Oakleigh

Victoria

Australia